Central Otago (one of the many regions our grapes are grown in) is hot and dry, perfect for growing Pinot Noir, New Zealand's award winning red wine.
Our grapes are chosen from the best wine growing regions around New Zealand and arrive fresh and cold, ready to start their journey into becoming a fine wine for you to enjoy.
The destemmer takes the stalk out that makes the grape bunch 'hold' together. The machine gently spins the grapes off the stems, making a large soup of grapes.
Once the stems are removed they go to feed very happy animals, this is because they are all covered in fresh sweet grape juice!
The Pinot Noir grapes are now ready to get tipped into a large fermenter, to start turning from juice to wine. The grapes will stay with the skins and seeds in the fermentation vessel for up to 30 days, to create the colour and tannin that everyone loves in red wine.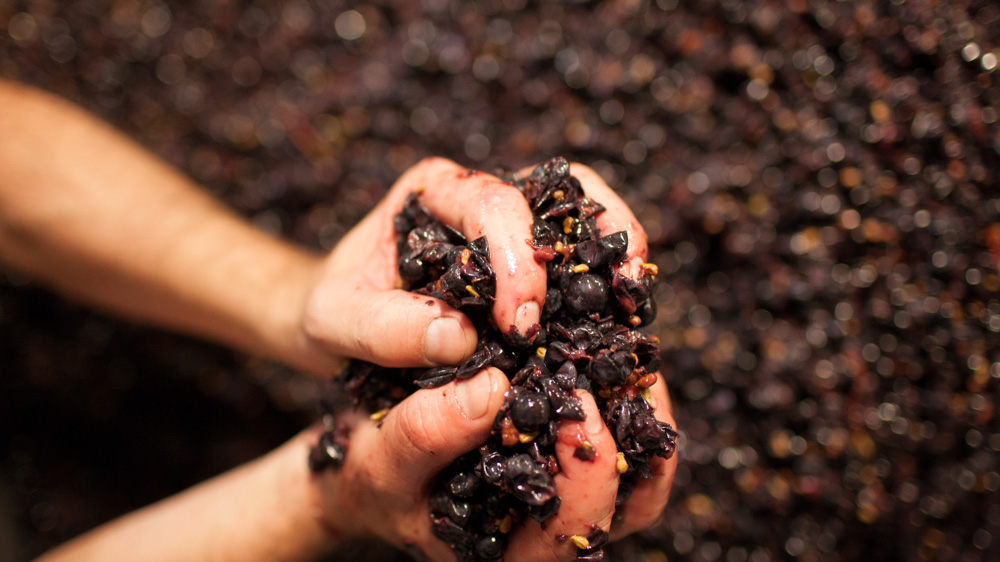 During the red wine making process the grapes ferment and the skins release their colour and tannin. The ferment is warm and you can feel the skins to see how the ferment is moving along.
Some of the grapes get broken when they come off the stems, and you can see the pink juice that is already making a start at being red wine.
Each year we choose some of our Pinot Noir grapes, that are lightly coloured, to make a softer red wine, which we think is all about summer, called Rosé. These grapes go straight into the press, to preserve the bright pink colour. Like Sauvignon Blanc and Pinot Gris, Rosé doesn't spend any time in barrel so gets bottled within a few months of being picked.
The Ros
é

juice is softly squeezed out of the grapes over 4 hours to produce sweet, cool and bright pink mixture ready for fermentation.
All our Pinot Noir and our Chardonnay age in French Oak barrique barrels which hold 225 litres. Every barrel is hand washed and prepared for the newly fermented wine to go into them.
French oak barrels adds flavour and tannin in order to make the wine age and have a richer smell and texture. All our Pinot Noir stays in their barrel for a minimum of 12 months (as does our Chardonnay), and this gives the wine a chance to rest and harmonise the oak flavours into the wine.
The main reason we make wine is for people to enjoy it! We love it when people smile and choose their favourite wine style from our range.