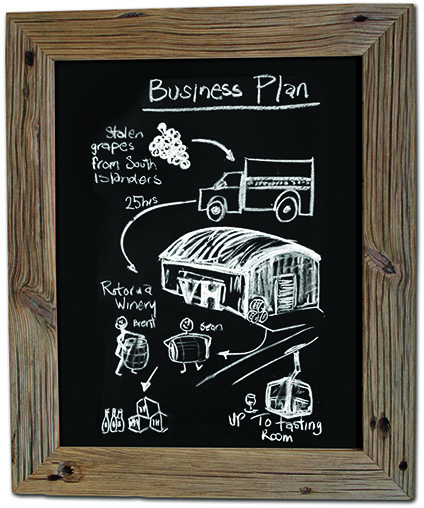 Our Story
The picture pretty much says it all. At the end of summer we leave our wives in charge of the children in the Bay of Plenty and hot-foot it across the country to taste the grapes, picking them at the perfect time. Although our winery (the place where we chuck the grapes in a bucket and stand on them) is in Rotorua, we grow them on the oldest vines in the country in the best wine growing regions – Marlborough, Central Otago, Martinborough and Hawkes Bay to get the best possible result.
It's a frantic but intensely enjoyable couple of months, culminating in a 30 hour ramble in a cotton wool wrapped truck from Central Otago deep in the South Island, hauling tonnes of warm, ripe fruit back up to Rotorua.We have always loved wine. We met at a big wine making company and wanted to do it ourselves. And that's what we did in 2009. Our wives weren't too thrilled with the idea of uprooting our families all the way down to the South Island so we have set up camp at the gondola in Rotorua.
Our winery is at the base of the gondola where you can come in and see how the lorry load of fruit turns into a bottle of our finest, of which we are immensely proud.Take the trip to the top of the gondola to our tasting room with arguably the best view in Rotorua.
After setting up Volcanic Hills in 2009, we realised we didn't just want to make wine, we wanted to see people enjoying it. We built our perfect working environment: a place to make the stuff near our families and a gorgeous tasting room in which to buy a glass, kick back and enjoy with a cheese board or do a wine tasting with either of us as well as sell bottles directly to our customers.
Sean Beer Wine Maker
Surfing and my family are my great loves. Living down the road from Rotorua in Mount Maunganui means I get to indulge all three. A degree in wine science was a good excuse to work in some of the world's most beautiful wine producing regions: Burgundy in France, Australia, Ontario in Canada. We are very much a two family company with Jo and Larissa supporting Brent and I in this venture we live and breathe.
Brent Park Wine Maker
I have spent my school years in Rotorua, moving to Wellington then Auckland as well as stints doing vintage in South Africa, USA, Australia and France. When I did my post grad certificate in wine making, the New Zealand market was in the embryonic stage. I'm proud of the global impact our local industry has and Rotorua is the perfect place to chat to the country's visitors about the wine making scene in New Zealand.
Jo Beer Marketing Manager
At home there may be a shortage of milk or bread to make packed lunches but we have never, ever run out of wine. In return for this flow of one of life's staples from my husband and Brent, I spend most of my time running the sales and organising delivery to the restaurants and outlets we supply. The ride up the gondola to see Daddy at work keeps our two boys happy as well as the promise of rides on the hair-raising luge at the top.

Larissa Park Accounts Manager
It was a stretch to move from the property finance and accounting sector with all the glitz and glamour of Auckland to my little office at the back of the winery but I am very proud of Volcanic Hills. If I ever get a day off with Brent, we love to take our two girls mountain biking in the forest. Working with the Beers makes the long hours worthwhile too and it doesn't hurt that my husband never comes home without some new vintage to try.